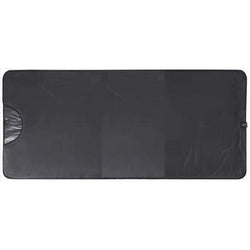 Naipo Sauna Blanket, Personal Sauna to Relax & Detox Your Body and Mind, Portable Blanket for Home Sauna Therapy, 71 x 35.5 inches
IMPROVES SYSTEMIC HEALTH AND RECOVERY -

 

Enhance blood circulation, cardiac function, and reduce vascular resistance. Activate heat shock proteins to protect cells from stress and injury. Aid the body's adaptive reaction to stress by activating antioxidant protection.

ENHANCES PERFORMANCE -

 

Reduce post-workout aches, soreness, and stiffness. Increase growth hormone production for better recovery of the neuromuscular system after endurance performance.

LOWERS STRESS AND INCREASES WELLBEING -

 

Reduce cortisol levels, stress, and tension. Improve sleep quality. Boost production of "happy hormones" for improved mood and increased wellbeing.

PREMIUM DESIGN AND BUILD QUALITY -

 

Constructed with proven techniques and premium materials for maximum durability and lifespan. Designed for comfort with sweat-resistant vegan leather and a thick zipper for easy entry and optimized heat retention.

SGS-CERTIFIED, WATER-BASED, SWEAT-RESISTANT VEGAN LEATHER -

 

Experience a plush and comfortable sauna session with butter-smooth, skin-safe, and sweat-resistant vegan leather. The Naipo sauna blanket ensures a safe and enjoyable experience.
Don't worried if you changed your mind, here are some tips for Return & Warranty:

1) For undamaged products with complete packaging and accessories, we offer a 30-day return service with a full refund (fees for reverse shipping not included).

2) Warranty is covered for any quality-related issues within 2 years, with 3 extended months after warranty registration.

3) Please contact our customer service team if you need to process a return(or warranty) for any reason, support@naipocare.com.

Learn more about Our Return Policy.