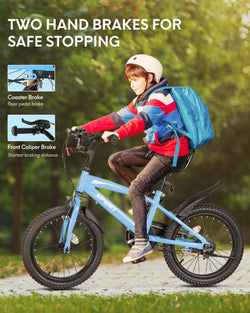 Kids Bike 14 Inch Kids Bike for Age 2-5 Years with Removable Training Wheels and Adjustable Seat & Sturdy Frame Rack
Go Outdoors and Enjoy Sports with Kids Bike
This kids' bicycles design better matches a child's body type to create a more comfortable, ideal riding position. This kid bike include a lighter bike frame for added control, smaller grip diameters to match smaller hands, and a more narrow pedal position to match children.On this kids bike, there will be less wobble while the child pedals so they will feel more confident and comfortable while going through the learning process,fitting your child longer.
The features of the 14 Inch Kids' Bicycles with Removable Training Wheels and Water Bottle
Easy Stand over frame for young riders: Lightweight steel frame provides a comfortable fit for young riders and control while they learn to ride.
Bottom Bracket - Maintenance-free and low rolling resistance sealed bearing.
Training Wheels:This toddler bike comes with stable training wheels for early riders.
The kids bike with full accessories: a non-slip handbrake cover with a bell and bike reflector assembled by your own choice for more safety. It is also equipped with a bike pump for better maintenance of bicycle tires.
This kid's bike comes with stable training wheels for early riders,you can take it off anytime.
Don't worried if you changed your mind, here are some tips for Return & Warranty:

1) For undamaged products with complete packaging and accessories, we offer a 30-day return service with a full refund (fees for reverse shipping not included).

2) Warranty is covered for any quality-related issues within 2 years, with 3 extended months after warranty registration.

3) Please contact our customer service team if you need to process a return(or warranty) for any reason, support@naipocare.com.

Learn more about Our Return Policy.