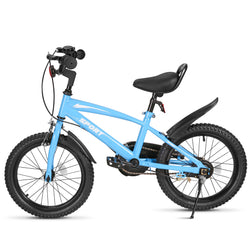 Kids Bike 16 Inch Kids' Bicycles with Removable Training Wheels Double Brake System Sturdy Frame Lightweight Bike Adjustable Seat Bicycle Pump Reflector for Age 4-8 Years Old
【Stability and Lightweight】The geometric design makes the bike's fram more stable. The curved bracket is more effective in shock absorption in a crash, making it more resistant to impact, stronger and more comfortable to ride. The bike has been upgraded in terms of weight, with a lighter weight that can be easily picked up

【16" kids' Bicycles】A bike with 16" tyres is perfect for children aged 4-8 years to ride.With 16inch bikes, the bike is more stable. It is suitable for children from 41-46inch to ride and as they get older, they have the ability to handle the bike freely and can also ride faster.

【Adjustable】The seat of the bike is adjustable and the adjustment range is from 21-27". At this age children grow taller and can be adjusted to suit their height. Adjust to a height that matches the child's riding height and provides better support for the child's ride

【Entry Level Performance】This 16" bike is perfect for a child who is just learning to ride and you can always remove the training wheel and replace it with a kickstand. This will allow your child to accustomed to riding without the training wheels and will allow them to learn more quickly.
【Design For Safety】The bike is equipped with a reflective sheet to make it easier for parents to keep an eye on your kids when playing outdoors and to increase the safety of riding at night. The handlebars with non-slip silicone grips are sturdy, with a flexible swivel and a bell on the bike for added safety for children.
Don't worried if you changed your mind, here are some tips for Return & Warranty:

1) For undamaged products with complete packaging and accessories, we offer a 30-day return service with a full refund (fees for reverse shipping not included).

2) Warranty is covered for any quality-related issues within 2 years, with 3 extended months after warranty registration.

3) Please contact our customer service team if you need to process a return(or warranty) for any reason, support@naipocare.com.

Learn more about Our Return Policy.