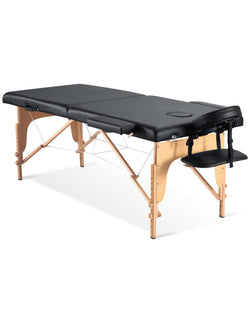 Naipo Massage Table Professional Portable Massage Bed Lash Bed Spa Bed Tatto Table Adjustable Height 2 Wood 496LB Black for Massage
r><br><b>Lash Bed</b> <br>The sturdy feet of the massage table are equipped with height-adjustable knobs, you can adjust the massage bed height by turning the button. The lash bed height can be adjusted from 24" to 35". <br><br>This lash bed does not need to be installed. We just need to open it from the middle and unfold it, and the legs will automatically fall. Armrests and headrests are very easy to add and remove. <br>The lash bed has a 2-inch-thick sponge, give you a soft and comfortable experience. The spa bed made of high-quality beech, reinforced hardwood corner blocks for superior strength to bear up to 496lbs on the massage bed. In addition, the massage table cover draped in a luxurious PVC leather, durable, soft, and easy to clean. <br>The detachable headrest and armrests of this massage table can be place in the bottom of spa bed, fixing with bungee in case of losing. The headrest and armrest can be attached to the treatment table when in need, and the headrest of this massage table can be adjusted. The headrest is connected with handle pallet underneath, ensuring you more comfortable on arm and head position. <br>Due to the foldable design, the massage bed can be unfolded easily within 30 seconds. The whole massage bed will become a portable case after folded, and the massage table is about 34lbs, so it is easy to carry around, especially for mobile therapists. If you want it for home use, the portable massage table also saves space when don't use. In addition, the spa bed has chrome clasps and double handles to lock it securely. <br><b>Package Content of this massage table:</b> <br>1 x Lash bed <br>1 x Face Cradle <br>2 x Armrests <br>1 x Side armrest <br>1 x Carrying bag <br>1 x Owner Manual
Don't worried if you changed your mind, here are some tips for Return & Warranty:

1) For undamaged products with complete packaging and accessories, we offer a 30-day return service with a full refund (fees for reverse shipping not included).

2) Warranty is covered for any quality-related issues within 2 years, with 3 extended months after warranty registration.

3) Please contact our customer service team if you need to process a return(or warranty) for any reason, support@naipocare.com.

Learn more about Our Return Policy.