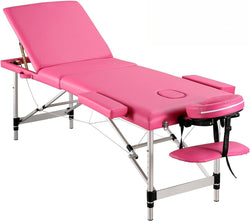 Massage Table Professional Massge Bed 3 Fold 82 Inches Height Adjustable for Spa Salon Lash Tattoo with Aluminum Legs Carrying Bag Accessories Pink
EASY TO SET UP AND DURABLE - Our massage table features a sturdy aluminum frame and steel cables, providing superior strength and durability compared to traditional wooden tables. (Load capacity up to 595 lbs.)Its lightweight design and easy unfolding mechanism make it a breeze to set up quickly and effortlessly.

COMFORTABLE AND BREATHABLE - The massage bed surface is made of breathable PVC leather and 1.6 inches thick sponge(24kg/m³), ensuring a comfortable and relaxing experience for your clients. The PVC leather is easy to clean and maintain, while the sponge provides a soft and comfortable surface that rebounds quickly and maintains its shape over time.

VERSATILE AND PROFESSIONAL - Designed with adjustable table legs, backrest, and headrest, our massage bed offers versatility for massage therapists to customize treatments for different clients. The 3-fold design is particularly suitable for raising the backrest, providing optimal comfort during sessions.

REMOVABLE ACCESSORIES - To enhance client comfort and support, we provide a complete set of accessories, including a headrest, hand rest, and two armrests. These accessories can be easily removed and folded inside the massage bed for storage and dustproofing, ensuring a neat and organized setup.

LIGHTWEIGHT AND PORTABLE - Weighing only 30 lbs, our massage bed is exceptionally lightweight and easy to carry. It's an ideal choice for both home use and professional massage therapists on the go. As an added bonus, we provide a bag for convenient transportation and storage.

Invest in Careboda high-quality massage bed for a comfortable, professional, and hassle-free massage experience.
Don't worried if you changed your mind, here are some tips for Return & Warranty:

1) For undamaged products with complete packaging and accessories, we offer a 30-day return service with a full refund (fees for reverse shipping not included).

2) Warranty is covered for any quality-related issues within 2 years, with 3 extended months after warranty registration.

3) Please contact our customer service team if you need to process a return(or warranty) for any reason, support@naipocare.com.

Learn more about Our Return Policy.